Halloween Costume Ideas That Rock!
Halloween costume ideas that are unique and cool can be difficult to come by, but here you'll find some of the freshest last-minute costume ideas and easy, simple outfits for your next occasion.
With millions of people celebrating Halloween it's easy to see why coming up with some new designs and suggestions can be daunting. Because of that, many people are turning to homemade costume-ideas or ways to dress outside of the box.
If you're wanting to see some images of ready-made costumes and kits that you can buy right now, be sure to visit the "Ideas" page. I also recommend this book at Amazon for anyone interested in makeup for costumes and stage (cosplay): Stage Makeup: The Actor's Complete Guide to Today's Techniques and Materials
Often times the best approach is to not re-invent the wheel but to instead take an existing outfit design and create your own custom solution. There are virtually an unlimited number of ways to re-use old costumes, or even apply parts of a costume in a new or different way, using your ideas to create the perfect costume for you and your occasion.
For example, here is an image of typical girl's western look costume:
This is a cute outfit, for sure, and if you're going for that look then this costume is a great choice. But you can shake things up by going with the unexpected. I'd recommend getting a men's western, gunslinger costume, complete with duster, kind of like the one shown below, and you can be certain that no one else at your party will have the same clothes on. While not a common solution, I'd say that more than likely Annie Oakley would've dressed like the image below than the cutesie one above.
Halloween Costume Ideas
So what are some other unique Halloween costume ideas? For starters, I'd say anything which you create on your own, with makeup and special effects, is going to be much more of a success than ready costumes in a bag (though they have their purpose). My go-to source for makeup, prosthetics and other items for making homemade costumes is SpiritHalloween.com!
On the right side of this page are some samples of how simple and easy it is to create your own custom outfit getting creative with makeups.
There are lots more ideas on the Halloween Makeup page, specifically on using makeup and other DIY methods.
As I mentioned earlier, think outside the box because with so many people and so few original designs you'll be hard-pressed to standout. A great example is a hybrid anything. One one side of the face you could do a vampire and on the other half a zombie or werewolf…. of course there is no limit to the original Halloween costume ideas that you could come up with.
Halloween Costume Ideas
Scary or Funny?
When you're racking your brain for something different, start by narrowing down your focus. Are you hoping to scare people or make them smile? Do you want a sexy / revealing outfit or one that is loaded with clothing accessories such as a pirate with scarf, bandana, etc… Do you have a time period or regional theme you prefer… Viking, Court Jester, Ninja, Roman soldier or royalty, Colonial, roaring 20's, etc… When you start to think like this you'll quickly see that there are many options, especially for someone who's wanting to make their own.
A trend that seems to be picking up momentum is to create an unknown, but scary look, like the photo above. When you think of witches, demons, sorcerers let your imagination run wild. After all, there's no such thing anyway (right?), and what we see on TV is the figment of someone else's imagination. The more unusual or creepy you make your dress, the better.
As I mentioned earlier, with a little makeup and creative shopping (Goodwill and other bargain sites) you can make something that no one else has seen and which looks like a million bucks.
This Gray Lady Ghost Costume is a great example.
What I really like about this type of costume, whether you buy it or make it, is that by simply modifying your makeup you can make it sheik or shriek.
Girls Halloween Costumes
 … and boys
For younger children it's often best to go with pre-made outfits, but depending on your situation perhaps you can conjure up something special for them, too. In a pinch I'd almost always recommend pre-made outfits for children, especially when they're younger, because you don't necessarily want to apply a lot of makeup to their faces. But this brings about an important note – makeup which was designed for cosplay and Halloween are more likely to me milder and less likely to irritate your skin.
Like we talked about already, with boys and girls you can use many of the same kits for both; a Ninja, Ghost, Goblin, Vampire, etc…. they all work great for both genders.
Group Halloween Costume Ideas
How about for groups, what can you possibly do? Traditional designs such as a Cowboy don't lend themselves necessarily well to a family event. However, there are a lot of themes which do work well for a family or group, and some which come to mind are aliens, vampires, zombies and ghosts. There's nothing more cute than little vampires trekking behind mom and dad!
For some additional ideas and tips, here's a list of the most popular Halloween Costumes last year, according to National Geographic:
Witch
Vampire
Pirate
Batman character
Zombie
Vixen
Princess
Ghost
Nurse
Cat
Oh, and lot's of people have asked so here's my recommendation for plus size Halloween costumes.
Finally, as you narrow down your search for the best Hallow costume ideas, here are a couple of videos which may help you.
Ellen's Last-Minute Costume Ideas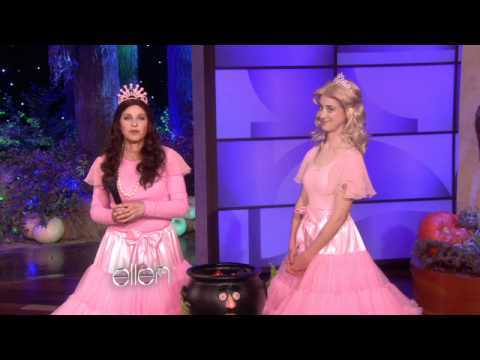 Simple & Quick Halloween Costume Ideas